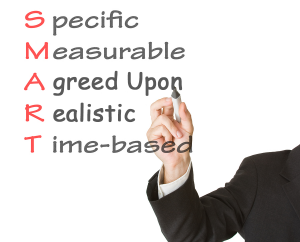 "Goal confusion" is one of the primary reasons for project problems and dissatisfied stakeholders. A clear concise definition of what the project intends to accomplish addresses this problem.
The project objective statement is a high-level, short summary of the project. It summarizes the project team's current understanding of what the project intends to accomplish. As such it should include the three aspects of the triple constraint: what the project will accomplish (scope), by when (time) and for how much (cost).
Project objective statements should be "SMART." A SMART project objective statement is:
In addition, the project objective statement should be energizing, concise, and avoid jargon as much as
possible. Start it with a verb and keep it
short – 25 words or less.
The Apollo Project is a good example. President Kennedy famously stated the goal of this project as
follows:
"I believe this nation should commit itself to achieving the goal, before this decade is out, of landing a man on the moon and returning him safely to the earth."
(For the record, the original commitment to the project was $531 million in the current fiscal year.)
Using the guidelines for creating a SMART project objective statement, we can restate President Kennedy's goal as follows:
"Send a man to the moon and return him safely to the earth by December 31, 1969, at a cost of approximately $10 billion."